Planning a wedding can be a fun time, but also one that is extremely stressful. Although my own wedding was a little bit ago (wait what, 10 year anniversary?!?), I think there always some pieces of advice that remain true no matter what happens. The big questions will always be how much are you spending and who is paying for it. My friends at Earnest, wrote a nice article on how to determine the real cost of a wedding (aka all the things we forget). Also you have to figure out who is paying for the wedding and how to afford the cost.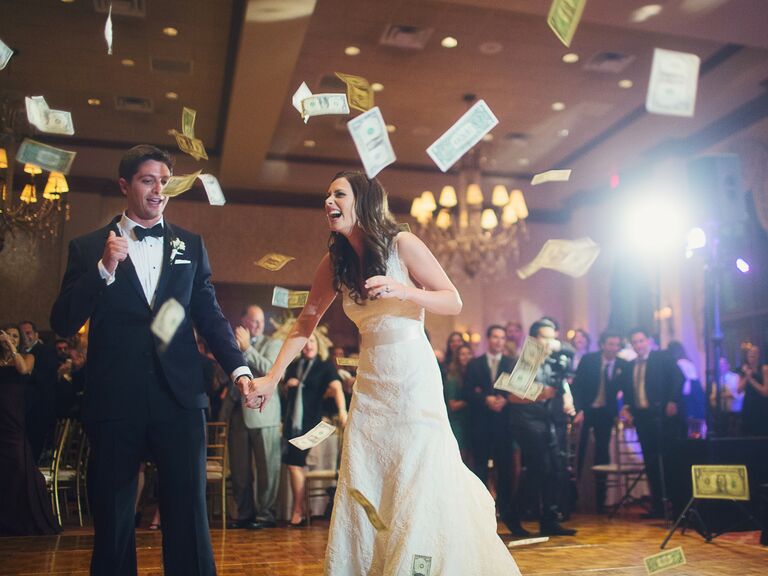 photo by BINARYFLIPS PHOTOGRAPHY
The first thing that I think really stands out to me is decide what is most important to you for the day and budget accordingly. Now I know this will be different for everyone, but for me the dress was not a huge importance for the day. I wanted to feel beautiful in my dress, but I knew I was wearing it for one day and I did not need to spend a ton of money to feel happy. I wanted to be sure that the reception was really fun and that all my guests enjoyed themselves. I set a budget for my dress and stuck to it. I actually got exactly what I wanted and loved it without getting near my budget!
Focus on the things that make you happy for that day. I come from a large Italian family so we needed a TON of food. That was important to both my husband and I. We had a huge selection of appetizer and stations at the cocktail hour, a nice dinner, cake and a dessert table. (Ok I might have wanted the dessert table!) Also we learned that sit down dinners are cheaper, because the catering company does not need to order as much extra food.
You can also save money on alcohol if you limit the options available to your guests. Again this goes back to how much extra needs to be ordered. We have been to several weddings with a signature cocktail, picked by the bride and groom, and a short list of beer and wine. Simple, classy, and budget friendly.
When I think back to my own wedding, there is not much I would have done differently. I was able to use my budget and get all the things that I felt I wanted or needed to make the day feel special. To me the important part was that both my husband and I enjoyed the day with all of our friends and family.
I know that the budget does not work for everyone's dreams of her special day, so sometimes you need to explore other options. If you want to explore other options to help pay for your day to be everything you want, check out these great options from Earnest.