It was a very lazy and rainy Sunday at our house. We did not leave the house at all! Love days like this. I got up and did 30 mins of cardio after taking the dogs for a walk. My back is still not 100% so I took it kinda easy of the workout.
Then I had some muffins for breakfast. I had one Zucchini and chocolate chip and one just zucchini. I actually thought they both had chocolate chips when I took them out of the freezer.
Then it was time to make our chili to eat and put in the freezer. We made a batch and a half!
First thing was to brown the meat. We found 91% lean ground beef already frozen in 1 lb packages at Costco yesterday! Perfect for us, now I don't have to put it in my own 1 lb bags, I am in love! (Sorry for all the non-meat eaters out there, I love veggies but this girl needs meat once and awhile)
Then it was time to get the spices ready, mine job because hubby hates measuring things!
Then comes the cocoa powder. What can I say even my chili had chocolate in it!!
Looks gross but adds lots of flavor. Then comes hubby's favorite part, the beer! We choose a bunch of different last ones of packs from the bar. Good way to clean out some beers and the differences all make it fun to taste the end result.
The chili need to cook for a few hours/all afternoon so we had lunch. We made grilled cheese with this creamy butter cheese we got at Costco yesterday. After the sample we just had to buy it. It did not make the best looking grilled cheese and it melted on the stop but it still tasted AMAZING. And we had some 3 Bean Salad on the side for protein.
Followed by some chocolate covered raisins for me.
Then it was time to sit down with a book, something I have not done in a while and since I have a stack on my night stand, it was time. I picked up Tori Spellings first book. I was never a huge fan of her's but after watching her show on Oxygen, I really do like her and find her to be really funny.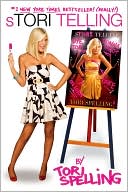 About 100 pages in and I am really enjoying this one, will go back to it when I finish up with this post.
After making me hungry all day, it was time for dinner. (Yes we made a lot).
Love it for quick weeknight meals from the freezer! Here is my first bowl with some chips and cheese, another small bowl followed.
Hope you had a great Sunday, back to reading and still have 1 more day off work!