This past weekend my sister-in-law came to visit and cash in her birthday present. We had got her a Philadelphia Chocolate Tour. I will admit that this might have been a little selfish on my part, I really wanted to go and have heard such great things about the tour, and knew that the SIL would enjoy it just as much as I would! So into the city we headed!
The first stop on our tour was a favorite of mine, Famous 4th Street Cookie Company!
Here we are at the start!
We started with the best selling cookie, the chocolate chip (still warm from the oven!)
Next it was on to Marcie Blaine Artisanal Chocolates. This shop was inside one of the cutest little accessory shops and the decor was so fun. Also you could watch them making the chocolates in the back!
However, I was sad we did not get to try any of the special Philly Chocolate:
Or this Balsamic Strawberry, the SIL and I had our eyes on!
But we did have some chocolate bark that was quite yummy
Next on the tour was the Swiss Company Teuscher. How cute does this store look?
The flowers change with the season. Also here we got to try the AMAZING Dark Champagne Truffles!
These are a little pricey, but they are so worth it. We both loved this truffle, and we can both be a little hard to please!
Here is our group at Teuscher
Next was the Swiss Haus Bakery. I have not been to a good bakery in awhile and this place did not disappoint, and check out the spread:
Top left is the Almond Horseshoe, great almond flavor with a flaky crust. In the front is the Pecan Diamond, which was like an amazing pecan pie. The top is the Chocolate Roll, which was a very moist chocolate sponge cake filled with an amazingly smooth butter cream frosting. The Bakery also gave us a chocolate dipped macaroon with I forgot to get a picture of! This place was the most filling of the tour!
Finally we ended our tour at Capogiro Gelato. I am a huge gelato fan so I was excited to see what they had for use to try.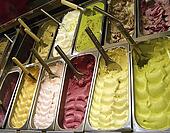 We got to sample Cioccolato Banana (which was nice if you like banana), Stracciatella (which is like a coffee ice cream with bits of chocolate in it, this was not as creamy as the other but had nice flavor), Nutella (which is a hazelnut and tastes just like Nutella! This was my favorite!), and finally Cioccolato Scuro (which was a dark chocolate gelato, also great but I mean what compares to nutella?)
I would highly recommend the Philadelphia Chocolate Tour it was fun and just the right amount of chocolate! We had a great time and now I just have to come up with a reason to do it again!