This past weekend was very fun
(and yes I just switched to Windows Live and can now get smiley's). I feel like a big girl blogger now! So back to the weekend now, in case you did not see my previous post, I went to my first class at a new studio this weekend, and loved it. You can read more about The Studio for Yoga and the class I took in the post for Solixir but I will be going again to this lovely little studio. After a bunch of errands at our favorite stores (Costco, Wegmans, and Target) to pick up some things for the weekend, Hubby and I were ready for the inlaws to come.
Once the inlaws arrived, Hubby and I had a plan to visit this new restaurant we read about. You would think after just coming back from England, English food would not be on our list, but you would be wrong! We headed over to the new British Chip Shop that opened this summer. This place was so great. Check out the menu here, the MIL and I each got the Fish and Chips, Queen size (which was huge), but nice and light. The batter was not heavy at all. I really enjoyed my meal (this is not my meal, but you get the idea).
Since they had been so busy, and the food took a little while, they gave us dessert on the house! Well I wanted to try the Fried Mars Bar so badly, so hubby and I shared that, and he got Sticky Toffee Pudding as well. My bars bar looked better then this and actually had the same light batter as the Fish and Chips on it!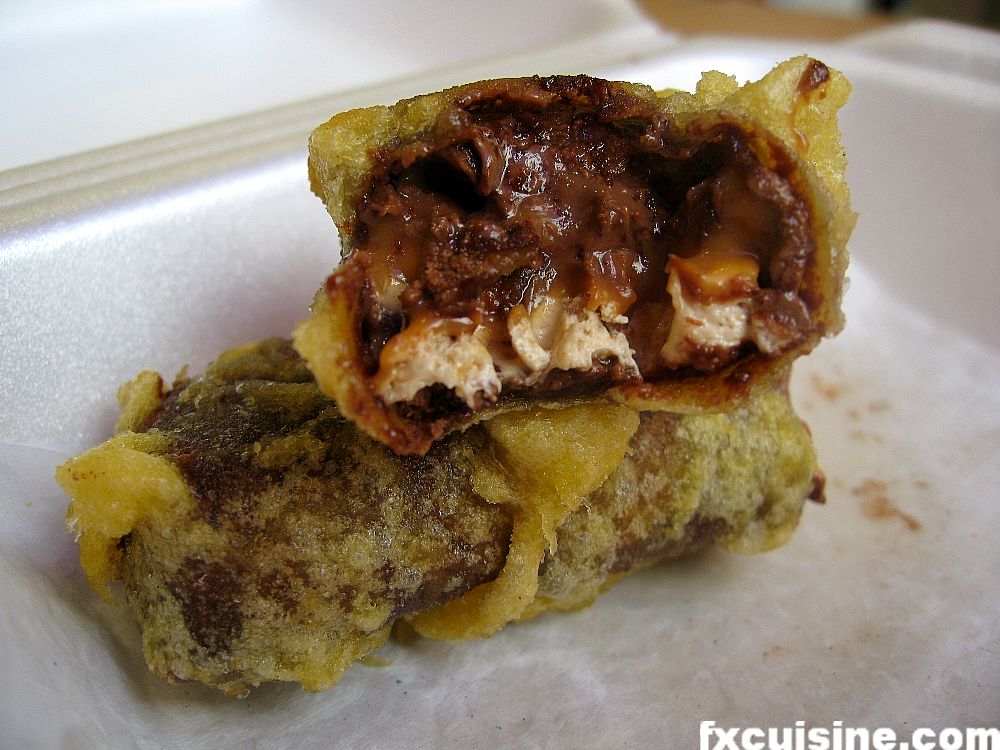 The British Chip Shop was so good, we went back the next morning for breakfast with my sister and brother in-law. Everyone else got the Full English Breakfast (egg, 2 meats, mushrooms, toast, and beans) but I had to be different! So I got the Knights of Windsor, which is French Toast stuffed with Cadbury's chocolate! (Again not my actually meal, but they did serve it with fruit on the side!)
My Knights of Windsor was actually really good and not as sweet as I would have thought. I actually really enjoyed it. I mean chocolate stuffed french toast how could I not?
After the family left Hubby and I sat down to watch some football, and make chili. Since it was a rainy football day what better then a big bowl of chili to make into freezer meals! We used Emeril's Recipe served with some Costco chips and cheese. So good!
It was a great weekend, before what has been a LONG week…….